I'm struggling with the TimeXtender SAP Table Data Source version 18 in ODX Server v6429.1. In our current setup we use Table Name filtering like this: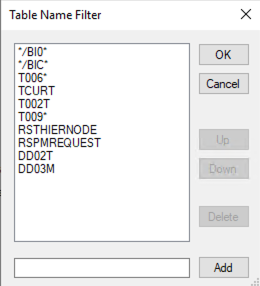 Please see the wildcards used. How does this translate to ODX Server v21? I have these three rules:

The latter does not seem to work. I tried many variations (and did a sync data source consecutively), but when I click Select Tables under a transfer task, it only comes up with the tables matchin an equal-rule. Tables that should match a like-rule never show up:
Using equal and wildcards doesn't work either
Any advice on how I should filter tables properly?
Best answer by bas.hopstaken 31 October 2023, 16:19
View original